An ST editor, who is an expert in grooming, teaches how to apply make-up step-by-step. Her make-up tips
are worth following. Why don't you try it? .....................................................................................................Ed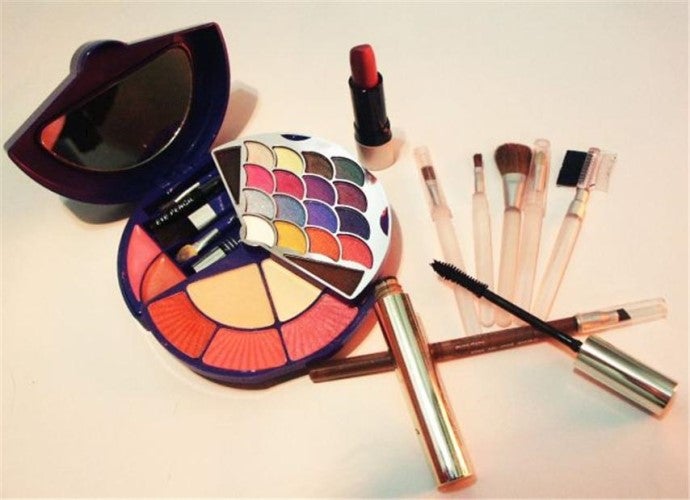 When girls enter college after passing the CSAT, they all want something to do in common: to put makeup. However, most freshmen are often unaware of the type of cosmetics for heir skin and their specific functions. So they often end up ruining their makeup. Usually, there are three phases of makeup: skin care, base makeup, and color makeup.
<Skin Care>
The base of all makeup is skin care. Skin care provides one's skin with moisture and nutrients as part of initial skin protection. Skin care is important because skin conditions and the makeup state change, depending on how skin care is applied. Skin care includes toner, essence (or serum), lotion, and cream. Toner helps smoothening and moisturizing the skin after cleansing. It is ideal to apply on one's face cotton soaked in toner. Essence and serum, highly enriched with moisture and nutrition, help solve skin problems. Lotions and creams balance the oil and moisture content of the skin. Lotions have a lower viscosity and creams are usually characterized by a higher viscosity. Should we apply all these skin care products on our skin then? There is no need to use all of them. Rather, excessive skin care causes makeup to be cakey. So if you have oily skin, you can apply toner and cream.
<Skin Makeup>
Skin makeup covers blemishes, and makes your skin look more perfect. Skin cosmetics include foundation, cushion, BB cream, and concealer. Foundation, cushion, and BB cream are applied on the entire area of the face to cover blemishes and make the skin look evenly toned. The foundation is usually longlasting and its coverage is better than cushion and BB cream. Cushion refers to a type of cosmetics that has been diluted with a foundation and soaked in a sponge. Cushions are easy to carry and use. You can use them when you are in a hurry or want to simply retouch your makeup. BB cream was originally intended to block ultraviolet rays, and to minimize redness after skin treatment. However, BB cream is now being used to enhance beauty rather than for the therapeutic purpose. A concealer is applied partially on those blemishes that cannot be covered by other types of cosmetics.
<Color Makeup>
Color makeup can result in the image that you want by adding animation and color on your skin. You can apply makeup around the eyes and on the lips, and cheeks. Eye cosmetics include eyebrow pencils, eye shadow, eye liner, and mascara. With an eyebrow pencil you draw eyebrows, hold a shape frame, or fill empty eyebrows. Eye shadow helps shading the eyes and makes the eyes colorful. Eyeliner is a product that can be drawn between the eyelashes, making the eyes look sharp and clear. The mascara emphasizes the lashes, making them look longer or abundant. Lip makeup includes lipstick and lip tint. Lipstick is solid, while lip tint is liquid. The makeup on the cheek is called blusher and it comes in cream and powder forms. Lip makeup and blusher make your face look vibrant.
Kwon Hyeon-ji (Culture Editor)
hyes0112@ssu.ac.kr